A territory rich in history and charm which is surely worth a visit at least once in a lifetime. Therefore, many people decide to rent their villas here in Tuscany. What are you waiting for?
Val d'Elsa is the perfect starting point for a tour of Tuscany, choosing a villa around here will put you in the perfect position to easily reach most of the attractions of the region. This verdant valley is exactly what you picture in your mind when thinking about Tuscan countryside: the landscapes, the atmosphere, the little towns and the farms, everything seems just popped out of a postcard.
The main attraction in the area is surely the town of San Gimignano, a perfectly preserved medieval hamlet: approaching it from the hills that surrounds it on the East side, you'll have a clear view of its skyline, with the 15 fortified towers that makes the town look like an ancient metropolis. This is one of Tuscany's most famous little towns along with Volterra, located in the near Val di Cecina, within the province of Pisa. The walls of Volterra are legendary, but the town gained suddenly an uncommon fame even outside of Europe after Stephanie Meyer chose it as one of the main settings of the Twilight Saga.
Discover more on:
What else to see in Val d'Elsa
Certaldo. The birthplace of Giovanni Boccaccio, the author of Decameron, is located 15km North of San Gimignano. The town is divided into Certaldo Basso and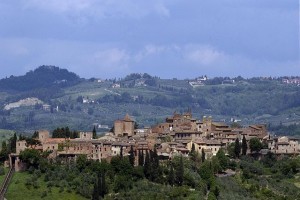 Certaldo Alto, the last one was the actual town of Certaldo back in the Middle Ages. Certaldo Alto will surprise you for the beauty of its streets, walls, squares and houses. Everything has been left exactly as it was in the 14th century. Pay a visit to Palazzo Pretorio and to its dungeons, and don't forget to stop by at Casa Boccaccio, from its tower you'll get a terrific view of the whole Val d'Elsa.
Monteriggioni. Look at the walls of Monteriggioni: these are the ones described by Dante in the Inferno, and today they look exactly as they did more than 700 years ago. This medieval citadel is almost perfectly round, it counts two gates and 14 towers: it was built in the early 13th century by the Sieneses to guard Val d'Elsa and the near Val di Staggia.
On the way of the pilgrims. Val d'Elsa is crossed by an old pilgrims' way called Via Francigena, an itinerary that from Canterbury, in England, led to Rome. Following this historic road you'll stop by San Gimignano and Monteriggioni, but the route includes also the towns of San Quirico d'Orcia and Radicofani.