The walls of Volterra are famous all over the world: the whole town is perfectly preserved, just like San Gimignano. It's not a surprise to learn that writer Stephanie Meyer has chosen this little town in Tuscany as the setting for the main council of the vampire society in the Twilight Saga.
Walk along its paved alleys, they'll be less crowded than San Gimignano's allowing you to really feel immersed in a true medieval atmosphere.
What to see
Museo Etrusco Guarnacci. Like many towns of Tuscany, Volterra was originally founded by the Etruscans, the population who inhabited the area before the arrival of the Romans. The Etruscan Museum of Volterra hosts one of the biggest and most important collections of Etruscan handicraft of the world, including the famous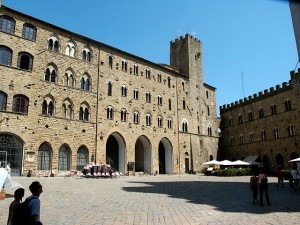 Urna degli Sposi (Urn of the spouses).
Town centre. The central square of Volterra hosts the medieval cathedral, whose intern has been completely renovated during the Renaissance. During your tour pay a visit to the church, but also to Palazzo dei Priori, which dates back to 13th century and to Palazzo Pretorio, from which rises Torre del Porcellino.
The walls. The walls of the town are among the best preserved medieval city walls of Europe. Recently they suffered damages due to weather, that's why in 2013 renovation works has started to restore their original beauty.
Where to eat
La Carabaccia (Piazza XX Settembre 4-5). The name of this little trattoria comes from a traditional Tuscan soup, but you can taste different specialties everyday. The menu is short but changes a lot from one day to another to offer always the freshest local products.