San Gimignano is a fascinating medieval fortified town, built on the ruins of an Etruscan village. From the hills that surround it the skyline is terrific, with the 15 tall towers as lookout posts on the area. The town is perfectly preserved: walking across its squares and through its alleys will make you immediately feel immersed in the atmosphere typical of the Middle Ages.
San Gimignano is a great choice for a day trip: you'll be able to visit all the main spots in a few hours, and stop by a trattoria for lunch or get a sandwich at Bertelli's,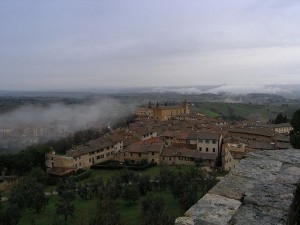 the most famous joint in town.
What to see
Town centre. Start your tour from Piazza della Cisterna, a triangular square with a cistern that dates back to the 13th century. The cathedral of San Gimignano is nearby, in Piazza del Duomo: its name is Church of the Collegiata, a romanic style building with an essential facade; once inside you'll have the chance to admire some impressive medieval frescos.
Right in front of the cathedral there's the Palazzo Comunale, the heart of the politics back in the Middle Ages. Here Dante asked the council of San Gimignano to join the guelfi alliance in 1299; in the same period the Maestà (the Majesty), the spectacular fresco that adorns the Dante Hall of the palace, was painted by artist Lippo Memmi. Pay a visit to the art gallery of Palazzo Comunale and don't forget to climb all the stairs of Torre Grossa to enjoy a breathtaking view of the town.
Where to eat
Dal Bertelli (Via Capassi 30). Brunello Bertelli's family lives in San Gimignano since 1779; his sandwiches are filled with the best cold cuts coming just from local producers. The atmosphere is great, far from tourists' bait cafés and trattorias: a little piece of authentic Tuscan spirit.
Perucà (Via Capassi 16). This little trattoria stands out for its genuine and delicious specialties, try the ravioli with pecorino, peas and zafferano sauce and drink a glass of Vernaccia, the white wine typical of San Gimignano.