San Marco is the university district: it's an area full of young people and little cafés, well known also for the elegant Piazza della Santissima Annunziata, and for the frescos that adorn the museum named after the district. But most of all, here's where you'll find Florence's most famous inhabitant: his name is David, and he's probably the most famous statue of all times, created by Michelangelo and now on exhibition at the Galleria dell'Accademia.
San Marco museum. The church of San Marco is located in the heart of the district, right next to it you'll see the monastery, built in the 15th century, that used to be the home of the Dominican order. Its rooms hosted both Girolamo Savonarola, the preacher who established for a brief period of time a popular republic expelling the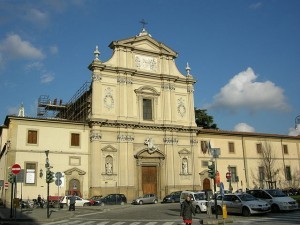 ruling Medici family from Florence, and artist Beato Angelico. Today the monastery is one of the most important museums of religious art in Italy.
To access the museum you'll pass through the beautiful Sant'Antonino courtyard: the paintings, among which Beato Angelico's Annunciazione stands out, are on exhibit inside the old 44 cells of the convent.
The striking and sometimes even lavish beauty of the artworks contrasts sharply the austerity of Savonarola's cell, kept almost bare except for a few personal effects of the friar and a marble statue sculpted in the 19th century.
Galleria dell'Accademia. Be warned: a long queue will be waiting for you outside one of Florence's most visited art galleries. The reason is soon revealed: Galleria dell'Accademia has been specifically created to host one of the highest masterpieces of the Renaissence, Michelangelo's David.
Luckily enough the world's most famous statue is worth the wait: the dept of the details you'll have the chance to admire looking at the original can't be replicated on any copy. Michelangelo created the David starting from a single huge piece of marble. The size and the particular kind of striated marble had been already chosen, and two sculptors before Michelangelo had already attempted to get something out of that shapeless block of stone.
The statue is surely one of the artist's greatest accomplishments. When the citizens of Florence saw David for the first time in Piazza della Signoria it was the 1504, and the city was still a republic after the expulsion of the Medici. The Florentines immediately claimed Michelangelo's artwork as the symbol of the power of the republic, and true embodiment of its spirit.
The gallery hosts two more sculptures of the artist, the unfinished San Matteo and the four statues of Prigioni, originally destined to adorn the tomb of pope Giulio II. Exploring the rooms of the museum you'll also find many more artworks created by artists such as Domenico Ghirlandaio and Sandro Botticelli.